Soort programmaBijeenkomst,Paneldiscussie04nov19:0021:3019:00 - 21:30 Intersectional Search in Queer and Trans Archives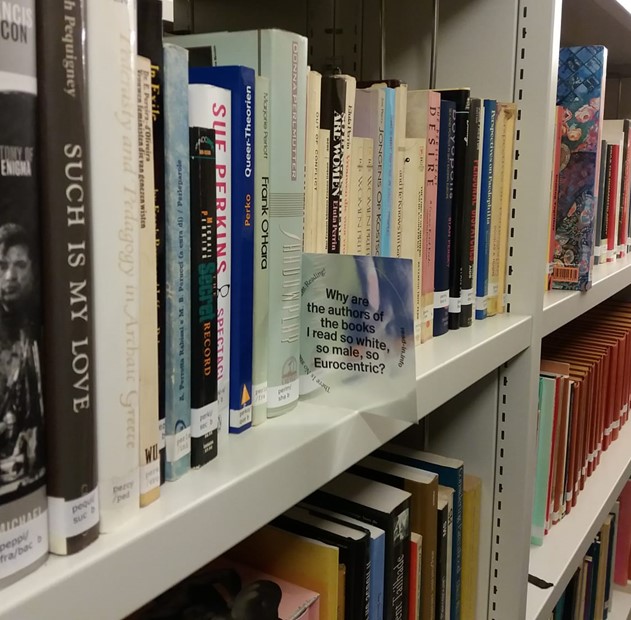 Details

You are kindly invited to join us for the presentation of the Feminist Search Tools project and a special panel about marginalized voices in queer and trans archives curated by Wigbertson Julian Isenia (co-founder Black Queer & Trans Resistance).
Feminist Search Strategies
Feminist Search Tools is an ongoing artistic research project that explores different ways of engaging with the items of digital library catalogues and their systems of categorization. The project attempts to stir conversations around the inclusion and exclusion mechanisms that are inherent to current Western knowledge economies.
It critically engages with the hierarchies of knowledge that inhabit our bookshelves, reading practices and search movements in digital library environments.
The project is made accessible on a website that documents a range of prototypes and forms of tooling aiming at critically and creatively evaluating the back-ends of library catalogues. The Feminist Search Tools website functions as a conversation piece contextualizing online research in digital library catalogues and addressing power structures that library search engines reproduce.
Through the collaborations with IHLIA LGBTI Heritage, Atria and OBA, the project has been able to closer look into specific archives and archival practices as well as thesauri used to facilitate user's search movements.
The presentation will focus on the collaboration with IHLIA LGBTI Heritage collection and includes the Homosaurus – a search interface initiated by former head of collection Jack van der Wel. It will give insights into the Homosaurus, and its relevance for the project.
We've been working on a visualization tool that has offered us a different lens to look at the IHLIA LGBTI collection and let us revisit the questions: Why are the authors of the books I read so white, so male, so Eurocentric? What does this question mean in the context of a queer and trans archive? Whose voices are brought to the fore? Whose voices are still missing?
The presentation of the project will contextualize the functionalities of the tools by reflecting on choices and collaborations that informed the project in its current form.
The project is part of a long-term collaboration between the two collectives Read-in and Hackers & Designers. The Feminist Search Tools work group consists of: Read-in (Annette Krauss, Svenja Engels, Laura Pardo), Hackers & Designers, (Anja Groten, André Fincato, Heerko van der Kooij, and and previous member James Bryan Graves), Ola Hassanain, Angeliki Diakrousi and Alice Strete.
Thank you to the institutions, initiatives and archives that supported the project and contributed to it in different ways: Atria, Vrouwenthesaurus (Maria van der Sommen & Gusta Drenthe), IHLIA LGBTI Heritage, OBA, Utrecht University Library, The Black Archives (Jessica de Abreu), KUNCI library, Aphra's Bookclub (Sayonara Stutgard), Casco Library, Mapping Slavery, Digital Methods Summer School (Hackers & Designers, Read-in, Frauke Rohden, Lonneke VanderVelden, Emile den Tex, Density Design Milan), White Privilege Workshop with contributions by Theater Generator (Wigbertson Julian Isenia, Ioana Tudor & Matthea Westerduin) and moderator Ying Que.
Panel: Marginalized voices in queer and trans archives
With: Eliza Steinbock, Naomie Pieter, Nina Littel, Wigbertson Julian Isenia
This panel will revolve around questions of thinking with and caring for marginalised voices in queer and trans archives.
How do we collect and use archival materials in an inclusive and decolonial way? Which methods are used to find certain marginalized groups in the archive? Which dilemmas and questions arise in finding particular perspectives in queer and trans archives? How are intersections in the archive erased or maintained? That is, in what ways are the databases and keywords we use conducive to an intersectional research.
And finally, how are marginalized voices included in archives? Who gets included, and when?
Bios
Eliza Steinbock, Assistant Professor Cultural Analysis, Leiden University Centre for the Arts in Society.
Author of Shimmering Images: Trans Cinema, Embodiment, and the Aesthetics of Change (Duke, 2019), co-editor of Art and Activism in the Age of Systemic Crisis: Aesthetic Resilience (Routledge, 2020), and project-leader of "The Critical Visitor" consortium, developing intersectional approaches for inclusive heritage (2020-2025). Currently writing on contemporary transgender (self) portraiture in the wider field of activism in Toronto, Berlin, Cape Town/Johannesburg.
Intersectional queer and anti-racist activist Naomie Pieter is the founder of ' Pon Di Pride' and co-founder of 'Black Queer & Trans Resistance NL', as well as the founder of Black Pride NL.
She is also a leading voice within the Black Lives Matter movement. Having completed her training as a choreographer at Amsterdam's Academy of Theatre and Dance, Naomie mixes the organisation of protest rallies and designing choreographies effortlessly. "Protest is a social choreography. We're organizing body, space and time. Who walks up front, what are the visuals, what is the stage?"
Nina Littel is a PhD candidate at Leiden University Centre for the Arts in Society.
Nina's research focuses on the history of LGBT+ archives in the Netherlands, the United Kingdom, and West-Germany. Based on archival research and oral history interviews, Nina studies the pre-history and emergence of these archives, and follows their development throughout the 1970s, 1980s and 1990s. This PhD-project is part of the broader project 'The Critical Visitor: The Heritage Sector at a Crossroads: The way of intersectionality', which is led by dr. Eliza Steinbock.
Wigbertson Julian Isenia (he/him/they), PhD candidate of cultural analysis at the University of Amsterdam and co-founder of Black Queer & Trans Resistance NL.
He co-edited the special issue Sexual politics between the Netherlands and the Caribbean: Imperial entanglements and archival desires (Tijdschrift voor Genderstudies 2019) and co-curated the exhibition Nos Tei (We are Here) about forty years of Black Queer activism in the Netherlands. His latest article Looking for Kambrada received an honorable mention for the Gregory Sprague Prize.
—
The Feminist Search Tools project is kindly supported by Stimuleringsfonds Creatieve Industrie.
Meer lezen
Tijd

(Woensdag) 19:00 - 21:30