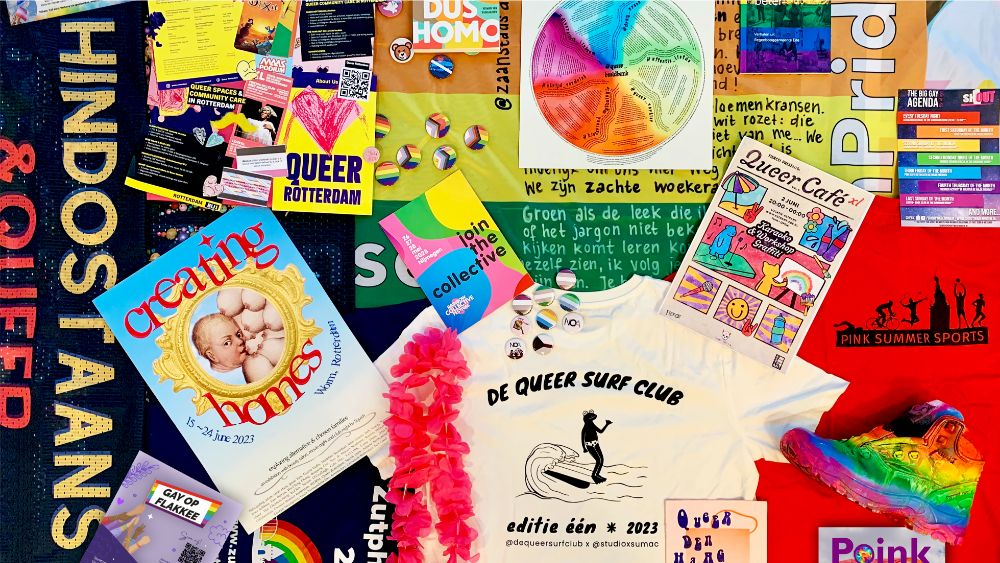 12 September – 3 December 2023
 History Happens Now

Exhibitions can be visited for free all year round on the IHLIA Plaza. Follow the opening hours of the OBA.

Monday to Friday: 08.00 – 22.00
Saturday and Sunday: 10.00 – 20.00
---
ACTIVITIES AROUND EXHIBITION
---
The archives of IHLIA LGBTI Heritage tell the story of the LGBTIQ+ community. Unfortunately our collections are never complete, meaning we're missing the stories and materials that have not been collected or are always overlooked. Often these are the stories of individuals, organizations or initiatives outside of Amsterdam that make a large difference on a smaller scale in LGBTIQ+ emancipation.
Imagine we bury a time capsule that will resurface in twenty years, which objects representing the Dutch LGBTIQ+ community will we find in there? What do we want people to remember about us?
The exhibition History Happens Now gives an overview of individuals and grassroots initiatives that fight for LGBTIQ+ emancipation in the Netherlands. Each of the 20 participating organizations from all over the country has submitted an object to the exhibition and the accompanying catalogue. Together, these objects tell the story of the Dutch LGBQIQ+ community right now and all the work they are doing as we speak. History happens now!