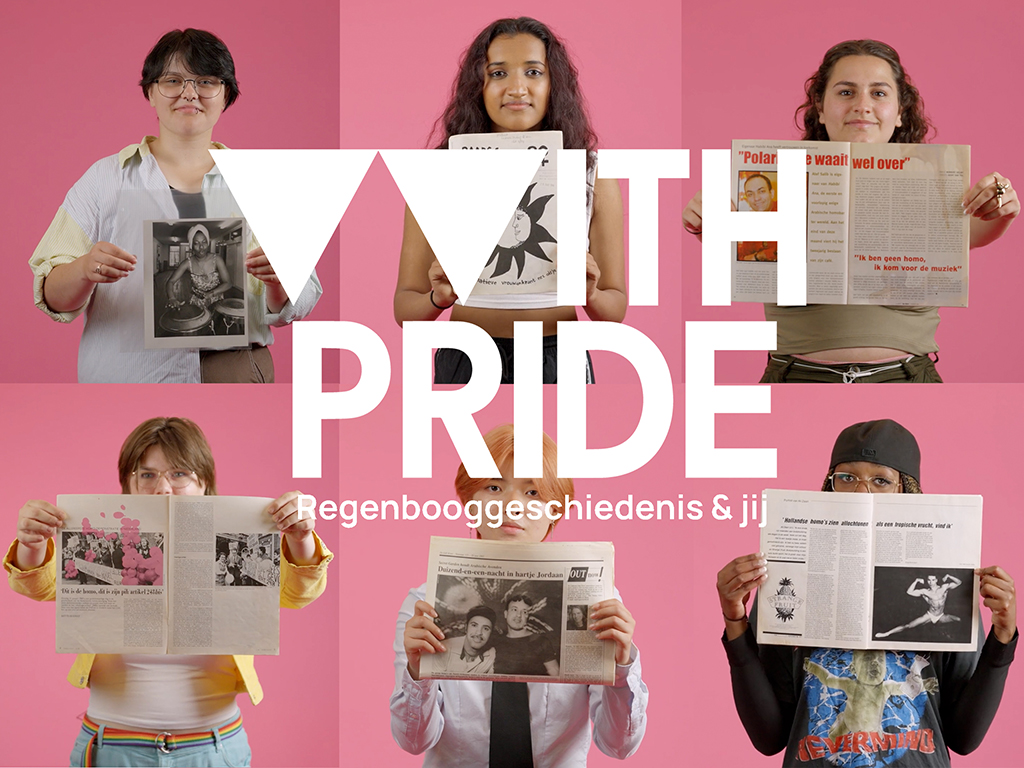 12 October 2022 – 2 April 2023
With Pride: Rainbow History & You

Exhibitions can be visited for free all year round on the IHLIA Plaza. Follow the opening hours of the OBA.

Monday to Friday: 08.00 – 22.00
Saturday and Sunday: 10.00 – 20.00

ONLY IN DUTCH
From October 11, Coming Out Day, IHLIA focuses on students and LGBTIQ+ history.
Sexual diversity in education goes further than paying attention to this subject in biology lessons or information provided by the COC. It is also about inclusion: representation of LGBTIQ+ people and subjects in, for example, history lessons.
With the exhibition With Pride: Rainbow History & You, visibility is created for this and the conversation can be started on the basis of the power and wisdom of historical LGBTQ+ people.
About With Pride
With Pride is a story platform about LGBTIQ+ history in the Netherlands. At With Pride, the story behind the struggle for emancipation and social acceptance is central.
The platform started with a hundred stories and is constantly being supplemented with new ones. Drawing from the IHLIA archive, With Pride shows that individuals and organizations from the LGBTIQ+ community have shaped society through self-organization, lobbying, action and provocation and have left their mark on Dutch history in the twentieth century.
Rainbow History & You
Ten highlights are shown in the exhibition, in which six students explain in clips why this history inspires them now.
This is important for students because these people and subjects are still too one-sided and too little addressed within the curriculum, in the media and in Dutch society.
Many schools, including ours, still teach very little about homosexuality and the LGBTIQ+ community. So it's important that we teach each other that, and that we help each other

Sadali Koralege (17), Cartesius Lyceum
The history of LGBTIQ+ people, which has been invisible for so long and still too often, comes to life with the stories in the With Pride exhibition. By creating visibility for these topics, you can start the conversation supported by the power and wisdom of the pioneers of LGBTIQ+ empowerment

Lonneke van den Hoonaard, Executive Manager IHLIA