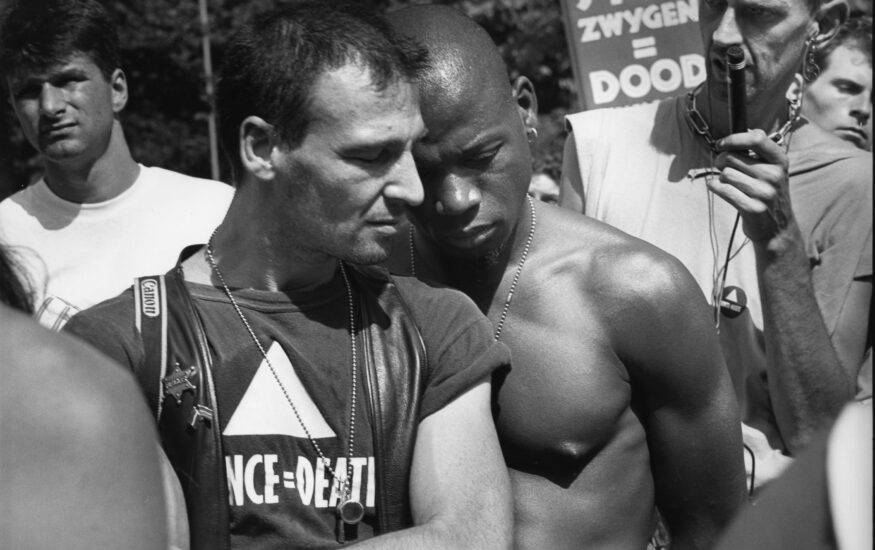 As of today, the exhibition House of Hiv can be seen! And not only at IHLIA itself, but also at six other locations in Amsterdam. On August 22, there will be an exclusive tour of the House of Hiv rooms of IHLIA and The Black Queer Archives. In addition, a film program will follow on 4 September with Dinah de Riquet Bons as guest.
Photos
Left: photo made by Jan Carel Warffemius / collection IHLIA / Archive Act Up!
Right: Donn en Rene, photo made by Gon Buurman
House of Hiv highlights the many initiatives from the HIV communities over the past forty years. At various locations there are rooms in which stories from the history of forty years of HIV and AIDS in the Netherlands can be seen.
The exhibition is an initiative of Hello Gorgeous, Mainline, Trans United, Black Queer Archives, Prostitutie Informatie Centrum, IHLIA and the Hiv Vereniging. Seven community organizations representing people and groups disproportionately affected by HIV.
Different rooms
All of these communities have played an important role in responding to and managing the disease. The exhibition focuses on four themes that together tell the story of forty years of living and coping with HIV: fighting, grieving, caring and loving.
The stories behind the initiatives are shown on the basis of different rooms, which together form the house. The rooms will be filled with (historical) visual material, art and photo works by Basse Stittgen and Erwin Olaf, among others.
House of Hiv at IHLIA
Where the house will keep its doors open until 9 September. The rooms of IHLIA can be seen longer! And until 25 September.
The first room focuses on Janherman Veenker, who has meant a lot to the LGBTQ+ and later also the HIV community. TWhen AIDS emerged, he was one of the first in our country to realize the impact it could have on the position of gays, sex workers and drug users. This room also considers the role of the LGBTQ+ community in tackling HIV and AIDS, something Veenker encouraged. How the community shaped the information for its own group and the joint mourning for the loss of loved ones.
The second room is a treasure trove of special pieces that have been bequeathed over the years and housed at IHLIA. Including archival pieces of Yehuda Sofer and Dolly (Terence) Cook, who were volunteers at IHLIA and died of AIDS.
For the third room – which was compiled by the Black Queer Archives – it was decided to have a number of activists tell the Black history in words or images. We asked the following prominent activists who were/are open about their sexual preferences and sometimes also about their HIV status: Jerry Haime, Anne Krul, Reggie Williams, Marlon Reina, Mikel Haman and Andre Reeder. Since the 1980s, they have all been creating safe spaces and community initiatives for people of colour, whether or not they were openly queer and/or living with HIV.
Program around exhibition
22 August: exclusive guided tour by Martien Sleutjes (IHLIA) and Julian Isenia (The Black Queer Archives) | 18:00 – 19:30 hrs. | IHLIA Plaza (3rd floor OBA Oosterdok) | free entrance
Martien Sleutjes (IHLIA) and Julian Isenia (The Black Queer Archives) open the House of HIV rooms of IHLIA and The Black Queer Archives with a guided tour. They tell you about the history of HIV within queer communities based on the archival documents in the exhibition.
4 September: film screening Queer.Red presents: Sex Worker ActHIVism | 16:00 – 18:00 hrs | Prinsenzaal OBA Oosterdok (6th floor) | free entrance, please make a reservation: aanmelden@ihlia.nl
queer.red presents! has been invited by Prostitution Information Center (PIC) to curate a short film program dedicated to queer and trans, sex worker and HIV activism. Following the film screening, there will be a brief conversation with Dinah de Riquet Bons, a local activist, who will add her personal story to the films and who has been part of HIV activism, among other things, in recent years.