14novHele dag12febM/V Wat doe jij ermeeLaten zien wie je bent, maakt dat kwetsbaar of juist sterk?(Hele dag)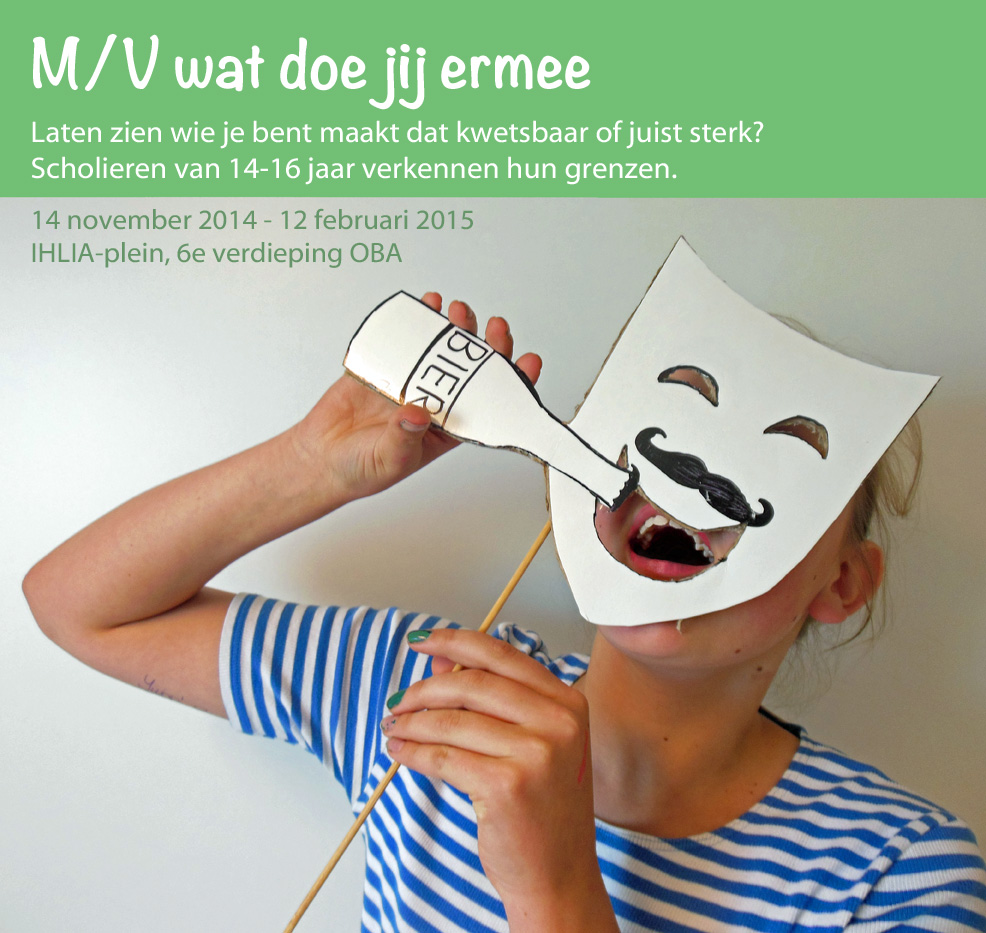 Details

Het dilemma van de zichtbaarheid. Laten zien wie je bent, maakt dat kwetsbaar of juist sterk? Het individu tegenover de groep, dat kan zomaar onveilig worden.

Wat kan en wil je laten zien in je houding en uiterlijk als het gaat om genderexpressie? Vier studenten van de Academie voor Beeldende Vorming lieten zich inspireren door de verschillende invalshoeken op gender uit de rijke LHBT-geschiedenis.

Zij maakten een aantal uitdagende directe opdrachten voor de doelgroep 14-16 jaar. Gedurende twee dubbeluren werkten leerlingen van het Hyperion Gymnasium en van het Rosa Beroepscollege de opdrachten uit tot de kunstwerken die bij IHLIA te zien zijn. Een beeldend onderzoek naar wat leeft onder jongeren van nu.
"…Wat kun je wel en wat kun je niet van jezelf laten zien? Is dat anders als jongen of meisje?"

Clari de Waal – projectleider educatieve projecten IHLIA
"We are born naked, the rest is drag"
Om te vieren dat de expositie gereed was, is er onlangs een speciale bijeenkomst georganiseerd voor de vriend(inn)en familie van de studenten, leerlingen en leraren die meegewerkt hebben.
Na een welkomstwoord van IHLIA-directeur Lonneke van den Hoonaard, sprak Clari de Waal, projectleider van deze expositie. Zij is theatervormgever en docent maatschappijleer en werkt graag samen met een doelgroep aan beeldende projecten in de openbare ruimte. "De OBA waar IHLIA huist, vind ik de meest geslaagde openbare ruimte van Amsterdam. Het is fantastisch om hier samen met jongeren binnen het thema 'sociale veiligheid' een tentoonstelling te mogen maken voor een breed publiek.
Genderexpressie
De werktitel voor onderzoek in de LHBT-geschiedenis was: het dilemma van de zichtbaarheid; laten zien wie je bent, maakt dat kwetsbaar of juist sterk? Door voor genderexpressie te gaan, is zichtbaarheid heel letterlijk opgevat. De basistentoonstelling die uit het IHLIA-archief is samengesteld laat zien hoe de invalshoek op genderexpressie per tijdsgewricht verandert.
Iedereen is uiteindelijk kind van zijn tijd. Binnen onze persoonlijke ontwikkeling worden we beïnvloed door de tijd waarin we leven. Dat geldt ook voor de jongeren die wij benaderd hebben voor dit project. Zowel voor de studenten die de beeldende opdrachten bedachten, als de leerlingen in het voortgezet onderwijs die de opdrachten uitvoerden. Zij zitten in de ontwikkelingsfase waarin de persoonlijke identiteit zich vormt (veertien tot midden twintig).
'We are born naked, the rest is drag'
Voor de zomer zijn de voorbereidingen begonnen met het benaderen van scholen. Uiteindelijk hebben twee middelbare scholen, het Hyperion Gymnasium en het Rosa Beroepscollege, meegedaan. "Complimenten aan Tjandra Tol en Marianne van Roodenburg van deze scholen." Na de zomer gingen vier studenten Van de Academie voor Beeldende Vorming (Gijs ter Beek, Iida Snoek, Lucas Atteveld en Leila Djuheric) met de leerlingen aan de slag. "Superclub! Zij wilden graag aan het project meedoen, omdat het voor hen een uitdaging was om een maatschappelijk onderwerp te vertalen naar een beeldende opdracht." Het moest allemaal wel in een kort tijdsbestek, zowel de voorbereiding als de uitvoering op school.
"Wat mij opviel was dat het moeilijk bleek om het onderwerp dichtbij te houden, kwetsbaar te maken. Onder de studenten leefde toch het idee dat nadenken over genderkwesties iets is voor mensen die daar een probleem mee hebben. De uitspraak van Ru Paul (geb.1960) bracht ons verder in het persoonlijk durven maken van het onderwerp: 'We are born naked, the rest is drag'. We leven allemaal in dezelfde wereld die eisen stelt aan ons gedrag en uiterlijk. Een mediale wereld die ons beelden opdringt. Maar ook een wereld waar we invloed op hebben. Als individu en als groep. M/V wat doe jij ermee ?! Gewoon jezelf zijn is niet zo vanzelfsprekend als het klinkt."
Ernst Coppejans
Na Clari's toespraak, werden de aanwezigen verdeeld over de vier studenten. In verschillende ronden kreeg iedereen de kans om alle kunstwerken te bekijken en er vragen over te stellen. Ook fotograaf Ernst Coppejans was aanwezig. Hij heeft zijn prachtige portretten van hedendaagse genderbenders ter beschikking gesteld voor de tentoonstelling. Ernst toonde zich blij verrast met de opstelling van zijn werk. Onlangs won hij goud bij de SO-Award 2014 (selection of Dutch photography) met twee portretseries uit West-Afrika.
Het is een tentoonstelling geworden om doorheen te dwalen en om verrast te worden door anderen. Maar ook een tentoonstelling die persoonlijke vragen oproept. Zou de wereld er heel anders uitzien als we onszelf en elkaar toestonden wat meer met stereotypen te spelen?
Meer lezen
Tijd

November 14 (Vrijdag) - Februari 12 (Donderdag)