22febHele dag01meiHet archief in ontwikkelingAchter de schermen van alternatieve archieven in Nederland(Hele dag)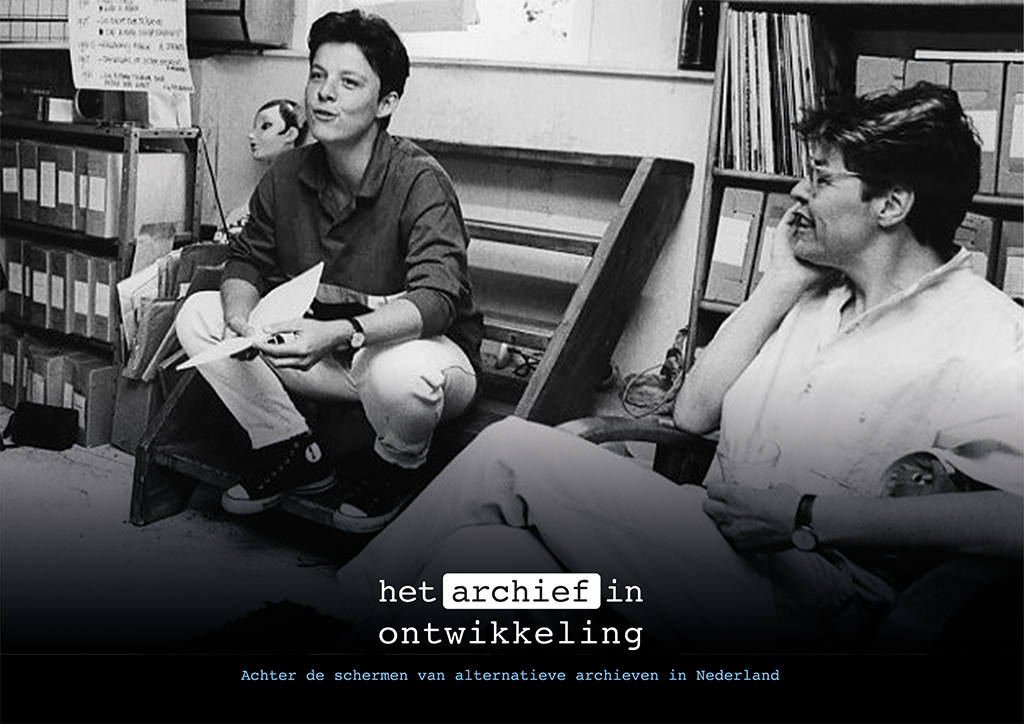 Details

Bezoekers van archieven komen vaak alleen in aanraking met de eindresultaten van het archiefproces. Hoe gaat het er achter de schermen aan toe bij een archief? Welke keuzen worden gemaakt bij de selectie en wat is het effect hiervan?

Deze en andere vragen staan centraal in deze nieuwe IHLIA-tentoonstelling waarin samensteller Noah Littel aan de hand van verschillende historische foto's en documenten dit proces bij 'alternatieve' archieven, zoals IHLIA, in Nederland zichtbaar wil maken.
Alternatieve archieven
Archieven zijn geen neutrale opslagplekken waar tastbare sporen van de geschiedenis simpelweg bewaard en toegankelijk gemaakt worden. Tijdens het proces van archivering vindt altijd selectie plaats, en deze leidt in de praktijk vaak tot uitsluiting van bepaalde groepen.
Een reactie op deze uitsluiting was het ontstaan van 'alternatieve archieven'. De initiatiefnemers zetten zich in om historische bronnen van groepen van wie het erfgoed niet of nauwelijks gerepresenteerd werd door traditionele archiefinstellingen, zoals lhbti+'ers, vrouwen en mensen van kleur, veilig te stellen en te bewaren.
Deze initiatiefnemers pasten traditionele archiefmethodes toe maar gingen ook op zoek naar alternatieven manieren om hun geschiedenis te bewaren en toegankelijk te maken. De archiefinstellingen stonden in nauwe verbinding met de sociale bewegingen waaruit ze voortkwamen. De keuzes van de archiefmedewerkers waren vervolgens bepalend voor de geschiedschrijving over hun bewegingen.
Geen neutrale opslagplekken
Ook alternatieve archieven zijn geen neutrale opslagplekken, maar het resultaat van processen van selectie. De vorming van alternatieve archiefcollecties was altijd onderwerp van discussie, en de archiefinstellingen en hun steeds groeiende collecties zijn altijd in ontwikkeling geweest.
Het archief in ontwikkeling zoomt in op een aantal momentopnames uit de geschiedenis van de Nederlandse Lesbische Archieven, het Dokumentatiecentrum Homostudies, en het Internationaal Informatiecentrum en Archief voor de Vrouwenbeweging (IIAV). Hiermee geeft deze tentoonstelling tegelijkertijd een inkijkje in de voorgeschiedenis van de huidige instellingen IHLIA en Atria.
De tentoonstelling is samengesteld door Noah Littel (promovendus aan de Universiteit Maastricht) in het kader van het onderzoeksproject The Critical Visitor: Intersectional Approaches for Rethinking & Retooling Accessibility and Inclusivity in Heritage Spaces.
Een preview van de tentoonstelling Het archief in ontwikkeling: achter de schermen van alternatieve archieven in Nederland was eind 2021 te zien in de bibliotheek van Atria.
Afbeelding: borrel georganiseerd door het lesbisch archief Amsterdam, 2 juni 1989. Op de foto Loes Siegmund (links). Fotograaf: Marian Bakker.
Meer lezen
Tijd

Februari 22 (Dinsdag) - Mei 1 (Zondag)