04febHele dag30aprWhisper their love…Vintage Lesbian Pulp Covers uit de IHLIA-collectie(Hele dag)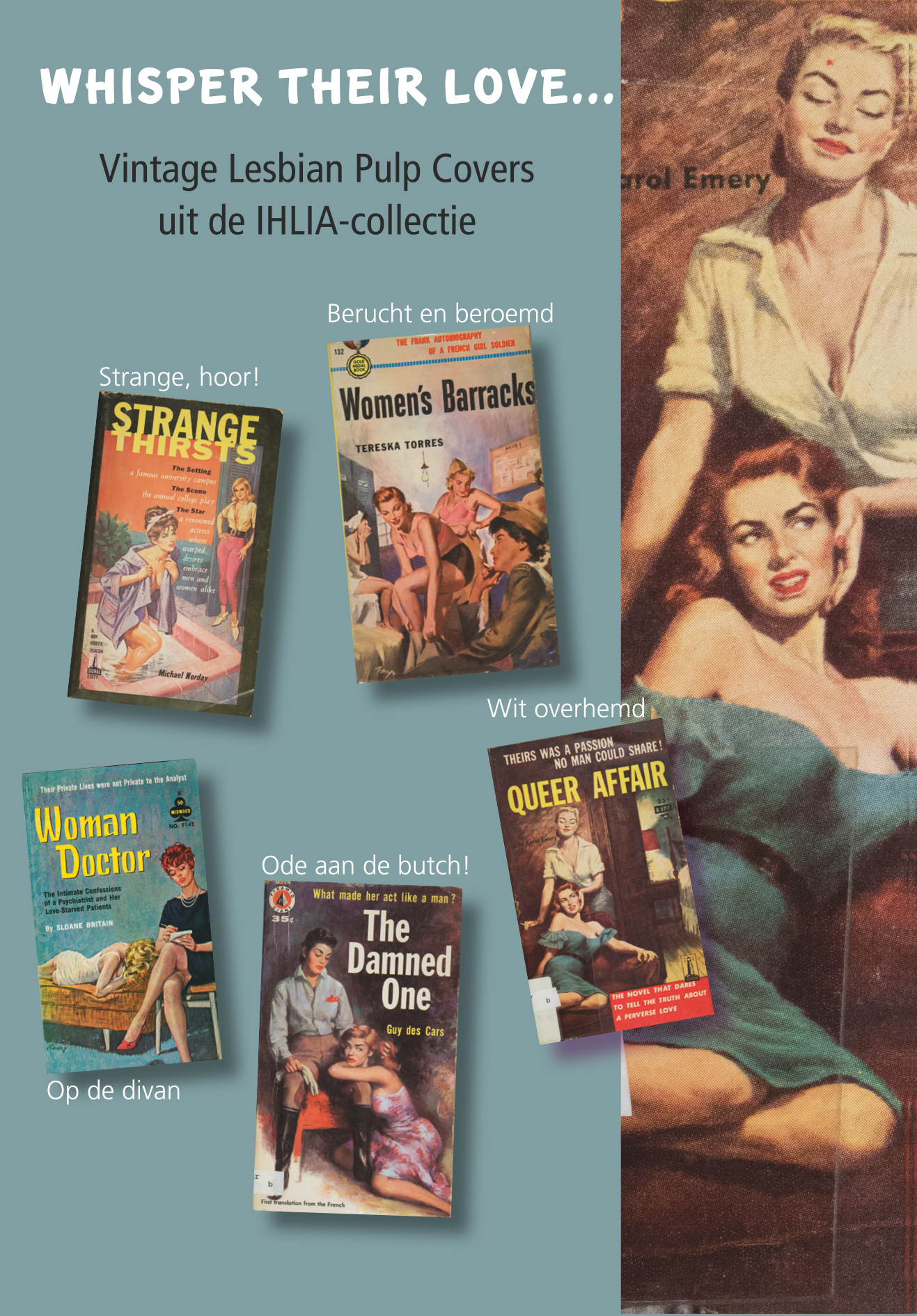 Details

Beeld: Cover van Whisper their love. Valerie Taylor. Greenwich: Fawcett Crest Book 187, 1957

In de jaren vijftig en zestig van de vorige eeuw verschenen in Amerika lesbische paperbacks met covers waarop vrouwen hunkerend naar elkaar en heerlijk wulps waren verbeeld.

De eerste lesbische paperback was Women's barracks, in 1950 uitgegeven in de Gold Medal-serie van Fawcett. Tereska Torrès beschrijft hierin haar tijd in het Vrije Franse leger.
Schandaal
De verschijning van het boek veroorzaakte een schandaal vanwege de lesbische passages. Het werd verboden door het Congres en toen toch weer niet, en dat legde de uitgeverij geen windeieren: vier miljoen verkochte exemplaren. Een betere reden om een volgende lesbische titel te laten verschijnen was er niet en dat werd Spring Fire van Vin Packer (pseudoniem van Marijane Meaker).
Odd Girl Out
Veel andere titels van even zo veel andere paperback uitgeverijen volgden, waaronder het beroemde Odd Girl Out van Ann Bannon (pseudoniem van Ann Weldry) en The Price of Salt van Claire Morgan (pseudoniem van Patricia Highsmith), verfilmd als Carol, en nú in de bioscoop.
Info
Curator: Connie van Gils
Vormgeving: Gemma Rameckers, Arthur van den Doren
Meer info: connie@ihlia.nl
Meer lezen
Artikel Het Parool: Vrouwen met mannenzielen (Peter van Brummelen)
Twee schrijvers van lesbische pulpromans aan het woord
Meer lezen
Tijd

Februari 4 (Donderdag) - April 30 (Zaterdag)